Good News Club
Good News Club meets for 6 weeks in the fall and in the spring, from 4:00 p.m. – 5:30 p.m., and is a national, after-school, outreach initiative for elementary-aged children. Since we are providentially placed across the street from Harney Elementary, our Good News Club is primarily focused on these children in our neighborhood. All children ages kindergarten to 5th grade are encouraged to attend, regardless of school district, if transportation to and from the church is provided. Click on the image below to register your child!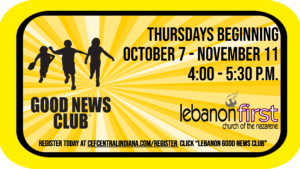 Volunteers
If you feel called to make a difference in a child's life, this is perfect opportunity for you! We are in need of volunteers for singing, teaching the Bible lesson, providing snacks, and general monitoring. All volunteers must submit to a background check and training. Please contact Pastor Carter if you think this ministry is a good fit for your desire to serve!
More Information About Good News Club
Good News Club is sponsored by Child Evangelism Fellowship. If you would like more information on this organization, click HERE.