Pastor Robert Carter, Lead Pastor
Pastor Robert and his family accepted the call to lead LFN in 2019 after serving Nazarene Churches on the Indianapolis and South Central Ohio Districts for 14 years. Pastor Robert has a passion for preaching the Word and for building a diverse church that reflects the beauty of God's varied creation.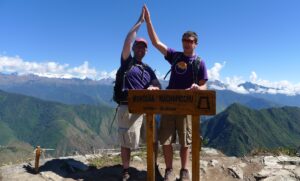 Pastor Robert and Carrie celebrated 25 years of marriage in July 2021, and they have two wonderful sons, Brennan and Jared. Brennan works for Remodel Health downtown Indianapolis, and Jared is a student at Olivet Nazarene University. Pastor Robert's hobbies include making homemade cappuccinos with his LaPavoni Machine, woodworking, and hiking.